Excerpt from Chapter Two, "God Is Enthralled By Your Beauty"
Triumphant Victorious Reminders
Inspired by the Holy Spirit
Written by: Teresa Criswell
Here is a small excerpt from chapter two of
God Is Enthralled By Your Beauty
. As mentioned in several posts before, I am placing excerpts of the book I was led to write onto my blog. I would encourage you to read
chapter one
so that you can better understand chapter two's excerpt. I pray you are blessed and that as you read you are led to rise up on behalf of girls and women alike who must be delivered and celebrated into God's glorious love.
Some of these women we are called to celebrate, have rejected us. However, remember they have not only rejected you, but they reject freedom from insecurity and shame. With and in God's love, we are more than able to overflow with abundant, powerful freedom that saturates their lives, so that they and we will never be the same!
There are two excerpts from chapter two (The whole chapter itself is not posted)...
"Blessed (Happy, fortunate, to be envied) is he who has forgiveness of his transgression continually exercised upon him, whose sin is covered. Blessed (Happy, fortunate, to be envied) is the man to whom the Lord imputes no iniquity and in whose spirit there is no deceit. When I kept silence [before I confessed], my bones wasted away through my groaning all the daylong. You are a hiding place for me; You, Lord, preserve me from trouble, you surround me with songs and shouts of deliverance. Selah [Pause and calmly think of that]!
~ Psalm 32:1-3, 7 (Amp.)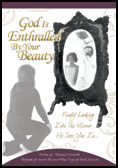 "...The manifestation of Bitterness was alarming. It literally changed and disfigured everything about her. The hope of that little girl that she once was, was now gone. It would seem as though there would be no trace of her again.

I heard this girl once full of life; whimpering with regretful cries. It seemed from the sounds of her cries that bitterness was attaching itself to her in unimaginable pain. The eerie sound of her pain was overwhelming to my ears.

She cried out, "Daddy"! "Daddy"! He immediately answered with a voice so booming and beautiful. She did something that alarmed me and that was to ask a question that I could never bear to hear again, especially to ask such a question to Father God. With a bitter tone and her fists clenched in anger, she yelled, "Why have you forsaken me?"

The loud cry of bitterness was so painful. She inhaled deeply as if to cry even louder in between the cries and the breath. Then there was silence. The silence could be described as utter darkness to the ears. Even my ears had not experienced silence to this degree.

Crawling on the ground, I suddenly felt the ground shake below me, it shook with such power; it was God's Mighty tears falling to the ground.

Suddenly, I saw these two amazing hands. These hands were so beautiful. Hands so detailed with power. Hands I had never seen before as they tenderly took hold of her. His loving, booming voice said, "O my princess do not judge me, for I am God. I am not God who forsakes and I have not forsaken you."

She jumped angrily out of those unforgettable Hands without saying a word. However, her heart and eyes said it all as they filled with hate towards Him.

He stayed by her side as He whispered His promises of Who He was, is and is to come; choking back loving tears.

She drowned out His loving whisper by screaming and running into a room I had not yet seen until that very

moment.

The name above the door was posted a sign, "The Place of Secrecy", along with the heart wrenching screams she slammed the door...
...There are deep wounds and ugly scars we have dared not look upon.
Now why do we try to place those things into a place of secrecy?
I believe it is not only 'survival mode', but also because we are made to believe it is better to ignore it and act as though it never happened, when in actuality it is as a festering poison in every area of our lives.
The wounds of guilt and unworthiness must be revealed and rid of, so that it can be replaced with what God has so readily available for us ~ innocence and worthiness.
Our Daddy wants us to come to Him, no matter what we have done or have not done. He wants to lift us up, not to oppress us or be a victim of condemnation. We are His children. We are His victorious daughters.
We as His daughters will not be able to bear the opening of that door without our Father's glorious love and grace. We must call upon Him!
I believe we will realize that this is not a bother to Him when we call upon Him. He wants us to call out to Him.

He desires for us to know who we are in Him. The powerful moment of realizing who we are in Him, is realizing who He is!"